Did you know Mary Beth wrote a book?
Lots of people have found it helpful and cool to read. 
If you're active in creative work (or would like to be), you might like it too!
Please check it out at your favorite retailer, ebook source, or library.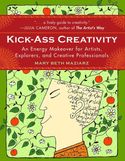 "KICK-ASS CREATIVITY --
An Energy Makeover for Artists, Explorers, and Creative Professionals."  
(Hampton Roads/ Red Wheel-Weiser-Conari Press).   
Check it out or purchase from:  
Hampton Roads
Amazon
Barnes and Noble
 or your favorite local bookseller
or independent bookstore : )
Feedback on "Kick-Ass Creativity":
"Kick-Ass Creativity is a lively and personable guide to higher creativity.
Spirited and spiritual, Mary Beth Maziarz is both muse and guide.
This book will catalyze all levels and types of creativity. Candid and
good-humored, it is a bright lantern on the creative trail."
--Julia Cameron, author of The Artist's Way
"You know that best friend you wish you had? The one who always tells you
the truth and she's so funny and smart and right-on? This book is that
friend. This book asks all the right questions. This book meets you right
where you are. This book is a firecracker, a cheerleader, a spiritual
adviser and the creativity coach every artist needs.
If you've got projects that have been just sitting on the shelf, or maybe
you're a mid-career artist thinking, 'why aren't I more successful?', Mary
Beth Maziarz is the tonic for you. Thought-provoking - and more importantly
to us procrastinators and perfectionists - action-provoking - Kick-Ass
Creativity will wake you up, shake you up and set you right!"
--
Samantha Bennett, The Organized Artist Company